China Dental Market will be 16.65 Billion by the end of year 2025 – Renub Research
In the year 2015, there had been 50% of patient's volume in stomatological general hospitals in China. It is predicted that by 2025, the numbers would increase drastically. Stand-alone dental clinics have 20% patient volume and specialized dental clinics have 30% patient volume. The chain hospitals have high potentials in the expansion of dental institutions.
Renub Research report titled "China Dental Market by Segments (Preventive Dentistry, Dental Lasers, Implants, Endonotics Dentistry, Orthodontics Dentistry, Others), Equipment (Radiology Equipment, Laser Equipments, Systems & Parts, Laboratory Machines, Hygiene Maintenance Device, Other Equipment), Region, Company Analysis" provides a complete analysis of China Dental Market. China Dental Market will be 16.65 Billion by the end of year 2025.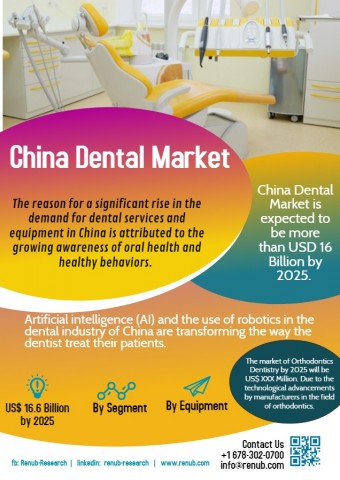 The numerous factors that influence the China dental market to outgrow are; growing China economy, rising per capita disposable income, increasing healthcare investment by public and private institution, expanding healthcare infrastructure, rising awareness regarding oral hygiene in China, advancement of technology, new product launch, increased living standard, increasing specialized dental care chain, people are conscious about image enhancement, demand of aesthetic dentistry is growing at rapid pace etc.
Request a free Brochure copy of the report: https://www.renub.com/request-sample-page.php?gturl=china-dental-market-p.php
A significant increase in cosmetic dentistry spending has been reported in China over the past few years. More than 1,500 dental practitioners are gathered at the 15th International Congress of Esthetic Dentistry in China in May 2018. Increased collaboration between China and Europe is expected to improve the innovative technologies used for dental treatment.
Request a free Brochure copy of the report: https://www.renub.com/request-brochure-page.php?gturl=china-dental-market-p.php
Market Summary:
By Segment: In this report, we have done detailed segment-by-segment study of China Dental Market. This encompasses the market for preventive dentistry, dental lasers, implants, dentistry of endonotics, dentistry of orthodontics, dental equipments, and others. To complete the overall process of market segmentation and to obtain accurate statistics for each market segment and sub-segment. The methods for triangulation and market breakdown were used, where applicable in this report.
By Equipment: The overall size of the dental equipment market was measured and checked using both top-down and bottom-up methods. In this report, China equipment market is fragmented into six parts; Radiology Equipment, Laser Equipments, Systems & Parts, Laboratory Machines, Hygiene Maintainence Device and Other Equipment.
By Company: The demand for dental products is fairly competitive. Some of the market's key players include Arrail Dental Group, Jiamei Dental Group., Bybo Dental Group, iByer Dental Group, TC Medical, ChengDu Huamei Dental Chain Co., Ltd and Straumann Group.
If the information you seek is not included in the current scope of the study kindly share your specific requirements with our custom research team.
Browse Related Reports :
Contact Us
Email: [email protected]
Phone: +1-678-302-0700
Web: www.renub.com
Key Topics Covered :
1 Executive Summary
2 Global Neonatal Intensive Care Market
3 Market Share – Global Neonatal Incentive Care
3.1 By Products
3.2 By Geographical Region
4 By Products – Neonatal Incentive Care Market
4.1 Incubators
4.2 Neonatal Ventilators
4.3 Resuscitators
4.4 Blood Pressure Monitors
4.5 Pulse Oximeter
4.6 Capnographs
4.7 Phototherapy Equipment
4.8 Others
5 Global and National Regulatory Policy
5.1 India
5.2 Europe
5.3 United States
6. By Geographical Region – Global Neonatal Market
6.1 North America
6.2 Europe
6.3 Asia Pacific
6.4 Africa
6.5 ROW (Rest of the World)
7. Growth Driver
7.1 Technological Advancements
7.2 Rising Number of Preterm Births
8. Challenges
8.1 Lack of Healthcare Infrastructure in Developing & Sub-Saharan Africa Countries
8.2 Lack of Regulatory Approval & Respiratory Device Manufacture's Definition
9. Philips – Company Analysis
9.1 Company Overview
9.2 Business Strategy
9.3 Financial Insight
10. Becton, Dickinson and Company (BD) – Company Analysis
10.1 Company Overview
10.2 Business Strategy
11. C. R. Bard, Inc – Company Analysis
11.1 Company Overview (Acquired by BD)
11.2 Financial Insight
12. Teleflex Incorporated – Company Analysis
12.1 Company Overview
12.2 Business Strategy
12.3 Financial Insight
13. Utah Medical Inc. – Company Analysis
13.1 Company Overview
13.3 Financial Insight
About Us
Renub Research is a Market Research and Consulting Company. We have more than 10 years of experience especially in international Business-to-Business Researches, Surveys, and Consulting. We provide a wide range of business research solutions that helps companies in making better business decisions. Our clients rely on our market analysis and data to make informed knowledgeable decisions. Our pertinent analysis helps consultants, bankers and executives to make informed and correct decisions.
Media Contact
Company Name: Renub Research
Contact Person: Rajat Gupta
Email: Send Email
Phone: 16783020700
Address:225 Kristie Ln
City: Roswell
State: GA
Country: United States
Website: www.renub.com/medical-devices-15-c.php