MetaHorse: A Gateway into the Revolutionary Metaverse
When the term "Metaverse" comes into our sight, our mind wonders about all the sci-fi movies and novels, we have gone through. We visualize people sleeping in glass tubes, wearing virtual reality goggles while living in a digitally simulated world. A virtual world where they conduct business, socialize and travel through holography. Right? Do you know we are envisioning the near future?
Yes! It is Metaverse, a virtual universe, with almost all the elements of the physical universe, being developed by humans for humans. It is a virtual space like a physical place, where individuals can buy real estate and can own digital assets. Where people can own and operate businesses, tend to their daily affairs, meet other people, and can entertain themselves by socializing and by playing virtual reality based games.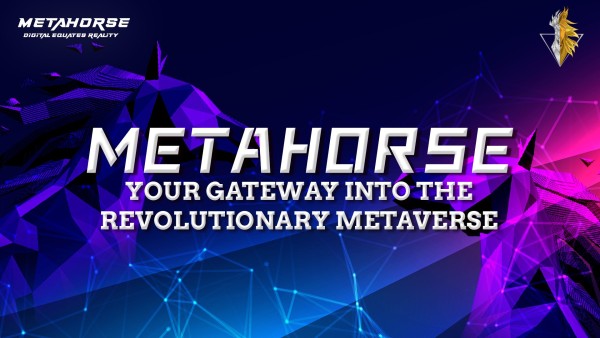 If you want to attend a meeting or visit a site, negotiate a deal or play a game or if you want to conduct any business in person without physically leaving your place, Metaverse is the surest means to your desired end. It is equipped to take you to your desired place within milliseconds, where you cannot only see but can also feel your surroundings and the presence of other people around you in the Metaverse. This is only a start, a glimpse of Metaverse capabilities. There are many more Metaverse avenues that are yet to be discovered and explored.
However, one of the most fascinating constituents of Metaverse is its gaming platform, Game Finance (GameFi). It is not just an ordinary digital gaming platform but an exhilarating gaming experience that stimulates the interest of players by offering the "Play-2-Earn" gaming model. This model allows players to own and earn digital assets in the game.
In addition to that, the GameFi is a stepping stone to the Metaverse. An easy way to enter into the finest future. It enables the players to get scarce digital currencies and premium non-fungible tokens. These digital assets will eventually facilitate the owners to trade on other Metaverse platforms. For instance, they will help in buying digital real estate or NFTs, in financing business transactions, or in paying for entertainment expenses on Metaverse.
So, why not learn about GameFi based magnificent NFT Horse Platform, the MetaHorse and explore the opportunity of experiencing lifelike NFT horse ownership and a chance to own a real-life horse.
MetaHorse: Bringing Reality and Virtuality More Closer.
Metahorse is the first-ever horse racing game that will revolutionize the GameFI platform with its innovative model. The Metahorse platform, as envisioned by its founders and conveyed through its slogan "Digital equates reality", is offering its community real asset backed digital assets. It means what the Metahorse community owns digitally, it also stands a chance to own physically. In other words, if you purchase a digital horse in Metahorse then you own a live horse.
In MetaHorse, the players can choose from a wide range of NFT horses, invest as per their budget, participate in horseraces, and can earn digital assets while having possession of physical assets equivalent to the worth of their digital ones. The ownership of the physical asset ensures minimized risk of financial loss and a higher probability of earning profit. Along with that, the players have the privilege of getting in touch with the top-notch community of blockchain experts from whom they can learn strategies to succeed in the game and in Metaverse too.
Moreover, the Metahorse platform's governance system, policies, rules, and regulations are devised in a very meticulous fashion to ensure the protection of the interests of its community members. The governmental requirements and all the reservations of the public are thoroughly considered while designing and developing the platform. It fulfills all the legal obligations of the State laws through every angle and the community standards are enacted to keep the Metahorse up and running in almost all circumstances, best or worst. It means the investments are secured from every perspective.
So, waiting is not an option. Join MetaHorse, play the game and be the first to pass the finishing post, while making your way up, to the summits of Metaverse.
For more information and queries about Metahorse, its promotional activities, especially the exclusive giveaway campaigns and the ongoing pre-launch sales campaign, please get in touch with us through the following mediums.
Media Contact
Company Name: METAHORSE
Contact Person: John Chin
Email: Send Email
City: Dubai
Country: United Arab Emirates
Website: https://themetahorse.io/